PRESS RELEASE: Seniors at ARHA's Ladrey Highrise Receive Second Vaccine Shots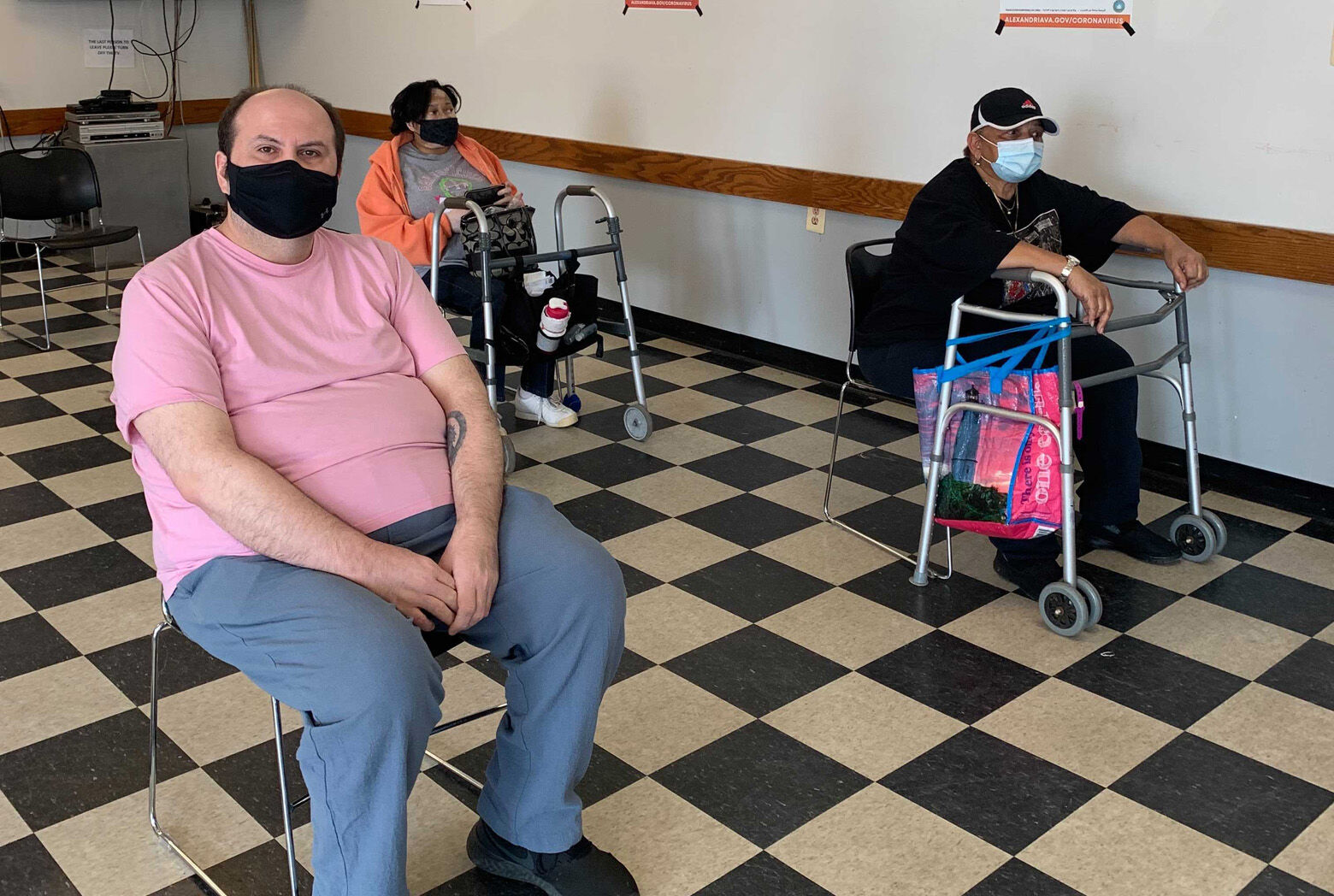 NEWS RELEASE
Seniors at ARHA's Ladrey Highrise Receive Second Vaccine Shots
Event was latest effort by the housing authority to keep senior residents safe
(Alexandria, VA – February 22, 2021) – As part of an ongoing effort to ensure that its most vulnerable residents receive their COVID vaccine shots, the Alexandria Redevelopment and Housing Authority (ARHA) in partnership with the Alexandria Health Department provided second doses of the Moderna vaccine to approximately 90 seniors who live at Ladrey Highrise. They had received their first doses four weeks ago.
Pharmacists from VanDorn Pharmacy administered the shots in the community room at the Ladrey Highrise building at 300 Wythe Street. With pharmacists and aides on hand, it took just over three hours to inoculate the residents. 
Ladrey resident Delores Tyler was apprehensive but overcame her concerns.
"I was nervous a little bit, but I said no, I'll go ahead and take it. I feel good," she said. "We also are so appreciative that they were able to come to us. It made it so convenient and now I feel safer."
The event was a priority for ARHA leadership.
"We wanted our seniors at Ladrey vaccinated as quickly and conveniently as possible to ensure they are safe and protected," said ARHA CEO Keith Pettigrew. "Since the beginning of the pandemic we have implemented several policies, including limiting the number of visitors allowed in the building, to minimize the risk of contracting the virus. This vaccination POD (point of dispensing) event was an extension of that policy. I feel grateful to our partners, and particularly Dr. Stephen Hearing, AHD's Director, who helped us coordinate this service."
Some residents of the building had declined the original offer to be vaccinated but have now decided they want the protection. As a result, VanDorn will return to the site within the next two weeks to deliver first doses to those residents. ARHA has also been reaching out to seniors at other sites to ensure that they have the opportunity to get vaccinated.
One Ladrey resident who received her second shot on Saturday, Caroleather Brown, was sounding relieved to be inoculated.
"I've known a couple people that had the virus, and they were saying how bad it was. I feel a little more comfortable going out now."
Photos:
Ladrey resident received his second vaccine shot on Saturday, February 20, at a vaccination POD (point of dispensing) event at the high-rise's community room.
Pharmacists from VanDorn Pharmacy administered 90 second vaccine doses to Ladrey residents. The pharmacists will return soon because other residents of the senior high-rise have now decided they also want the shots. The Alexandria Health Department is providing the vaccine.
Cover image provided by WTOP/Melissa Howell
About Alexandria Redevelopment and Housing Authority
For over 80 years, the Alexandria Redevelopment and Housing Authority has provided affordable housing, economic opportunities, and a suitable living environment free from discrimination for the citizens of Alexandria. Our mission is to be an industry leader in the development and management of model mixed income communities that provide the opportunity for residents to achieve self-sufficiency and to participate in economic opportunities that are made possible through this model.
To learn more, visit http://www.arha.us/.