Notice: The Alexandria DCHS Offices are moving next month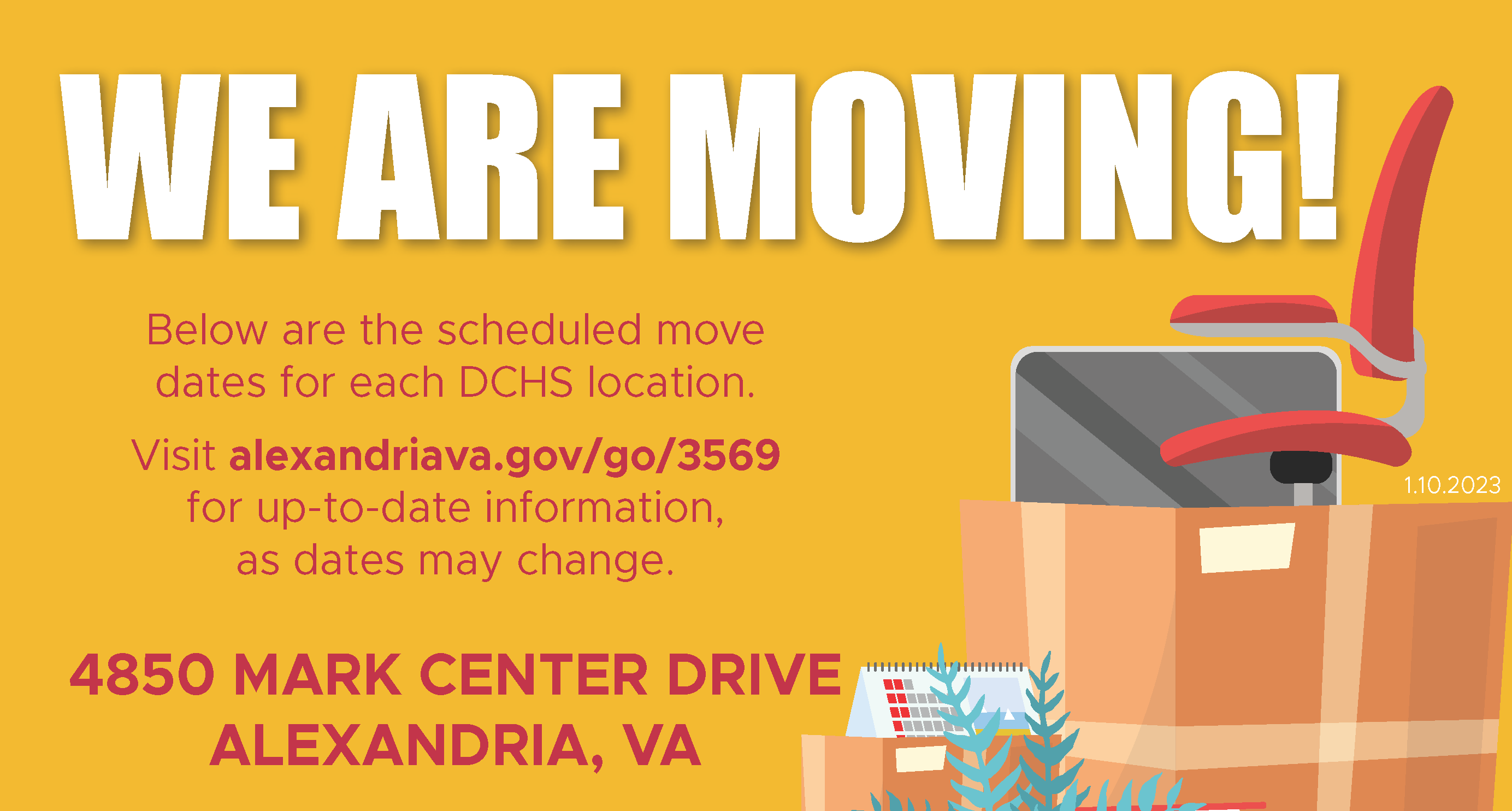 Please note that the Alexandria Department of Community & Human Services (DCHS) offices are moving locations. 
During 2023, nearly all DCHS programs and services will move to a new location in the West End of the city at 4850 Mark Center Drive. Information about the specific dates that program locations will change will be shared with clients and the community as they become available.
MOVE SCHEDULE*
Below are the scheduled move dates for each DCHS location. View and print flyer, and frequent this page for up-to-date information, as dates may change.
1900 N. BEAUREGARD STREET / WEDNESDAY, FEBRUARY 1
Workforce Development Center (WDC) | 703.746.5940

Early Childhood Division | 703.746.5437

Center for Alexandria's Children (CAC) | 703.746.6008
 
6101 STEVENSON AVENUE / THURSDAY, FEBRUARY 2
Aging and Adult Services | 703.746.5999
Alexandria Vocational Services | 703.746.3333
Developmental Disability Case Management | 703.746.3333 
    *Note- The Intellectual and Developmental Disabilities Day Support Program is not moving.
Adult Protective Services Hotline | 703.746.5778  
Report incidents of abuse, neglect or exploitation of an Adult to 703.746.5778 (Mon- Fri 8:30 a.m.- 4:30 p.m.) or after hours: 1.888.832.3858. TTY: Virginia Relay 711
2525 MOUNT VERNON AVENUE / FRIDAY, FEBRUARY 3
SEE CLIENT SERVICES BELOW FOR ADDITIONAL INFORMATION
Child Welfare | 703.746.5757
Community Services | 703.746.5901
Customer Relations | 703.746.5700
Eligibility Programs | 703.746.5801 
Child Protective Services Hotline |  703.746.5800
If a child is in immediate danger, call 911 for police assistance. Any concerned resident who suspects that a child is abused or neglected should call the City of Alexandria CPS Hotline at 703.746.5800, or the Virginia Hot Line at 1.800.552.7096 (after 4:30 p.m.).
 
720 NORTH SAINT ASAPH STREET 4TH FL / WEDNESDAY, FEBRUARY 8
Administrative Offices / CSB | 703.746.3400
 
720 NORTH SAINT ASAPH STREET 2ND AND 3RD FLOORS / TO BE DETERMINED
Emergency Services | 703.746.3401
MH/ID/SA Intake | 703.746.3535
Outpatient Mental Health | 703.746.3400
Neighborhood Health | 703.535.5568
 
123 N PITT SUITE 225 / FRIDAY, FEBRUARY 10
Alexandria Campaign on Adolescent Pregnancy (ACAP)| 703.746.3130
School-Age Youth Development | 703.746.3436
Substance Abuse Prevention Coalition of Alexandria (SAPCA) | 703.746.3670

*Note- The Domestic Violence Program and Sexual Assault Program are not moving.
 
421 KING STREET / MONDAY, FEBRUARY 13
Permit Center, City Finance Department and Clerk of Court
 
4480 KING STREET (EXCEPT DENTAL CLINIC) / WEDNESDAY, MARCH 1
Child Assessment and Treatment Center | 703.838.4708
Parent Infant Education (PIE) Program | 703.746.3350
Residential Services Administrative Offices | 703.746.3500
TRAILS (TRansitioning Adults Into Living Successfully) | 703.746.3441 
West End Wellness Center (formerly Clubhouse) | 703.746.3456
 
2355 Mill Road / TO BE DETERMINED
Medication Assisted Treatment (Opioid Tx)
Substance Use Outpatient
 
* As the time it takes to move will vary, we may provide services in alternative formats or locations. Contact your program service provider about when the program will open fully at 4850.